Outstanding in the Field with Ravi Kapur at Everett Family Farm
Outstanding in the Field is an event that I've been dying to attend for years now. The concept is straight up genius. Picture a long table out in the middle of a field filled with gorgeous fresh food with people who appreciate good food sitting along side people who cultivate all that goodness. That's Outstanding in the Field. Think of it as a restaurant but without the brick and mortar. These dinners honor the farmers and food artisans who work day in and day out to bring great ingredients to consumers. Almost all the ingredients at these dinners are locally sourced and are prepared with the skill and expertise of well known and respected chefs in the area. It's incredible right?
And guess what? We were finally lucky enough to attend one of these amazing events. On Sunday, June 15th, Moses and I drove down to Everett Family Farm in Soquel, Santa Cruz County. The drive's only about an hour and half but I've never been down to Santa Cruz, so let me tell you, I was excited enough just to be going down to Santa Cruz County. The dinner was the icing on the cake. It was set to start at 4:00 pm, so I naturally decided we should aim to be an hour early and realistically arrive 30 minutes early. Am I the only person who does this? We were the third car to park, so maybe I'm one of the few. Anyhow, when we drove up, I could feel myself filling up with hearts and butterflies because we were on a legit and gorgeous farm. I'm talking long dusty roads, farm houses, big giant barns (and of course I had to pose in front of one) and beautiful fields of green. It was a such a treat for the eyes and as we walked up the hill to the reception area, I knew we were in for a magical evening.
The Everett Family Farm is a pretty special spot for oh so many reasons but here's a few. Rich Everett has been farming organically for about 25 years. He and his lovely family not only work the farm but they also give young farmers the opportunity to learn the trade. The farm specializes in organic produce, free-range pastured eggs, flowers, apples and persimmons. And they just started brewing their own hard cider this year, which they were kind enough to share at the reception! It was absolutely delicious--crisp, dry and refreshing all rolled up into one. At the end of the reception, Rich, his family and the organizers of Outstanding in the Field introduced themselves and gave us backgrounds on both the farm and the event. My favorite part of this was when Rich held up a giant head of gorgeous lettuce and exclaimed that they were selling it for $2. This is incredible for such a thing of beauty.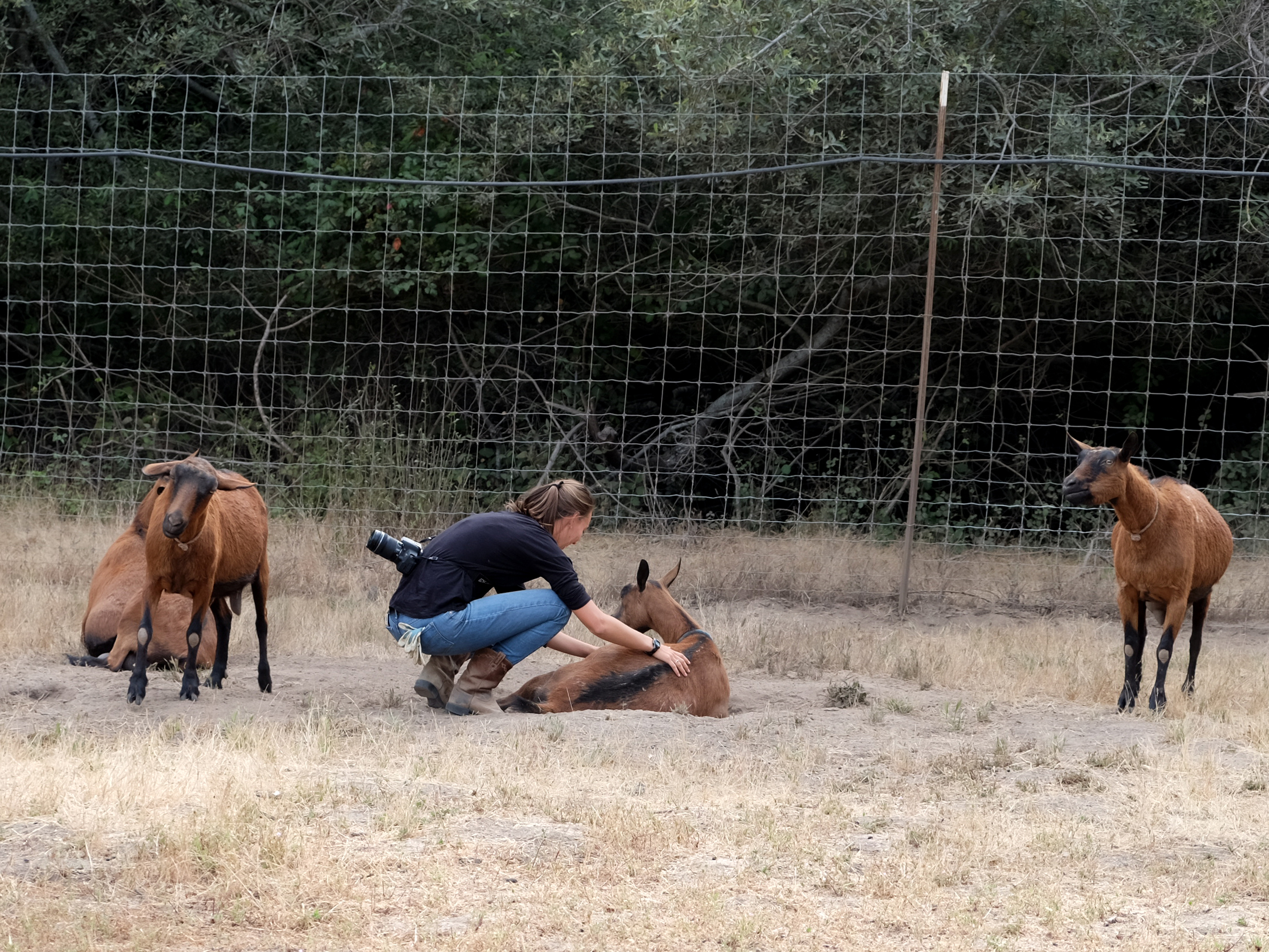 After the reception, we were treated to a tour through the farm. As Rich walked us past their pigs and goats, his daughter had to leave the group to take one of the goats away to give birth! And he told us that as long if his wife was at the table, it would mean that the delivery went smoothly. Pretty special, right? He also walked us past his chickens, which arrive at the farm as tiny chicks via USPS, I swear. Moses and I were lucky enough to be given one of their amazingly fresh (and still warm) free-range pasture eggs during the tour. Score! We meandered through the rest of the farm, making our way to fields of greens, purples, and pretty much every color out there. As I mentioned earlier, the farm produces a diverse range of products and it was incredible to walk the grounds and see how much land it takes to produce it. Highlights included the heirloom apples, the endless varieties of flowers and the gorgeous heads of lettuce that Rich raved about during his introduction at the reception.
As if that wasn't enough, we walked over to the dreamiest set up and were served a five star dinner in the middle of the field. And let me tell you, if you haven't heard of Chef Ravi Kapur, you're missing out and should look him up now (well, after you read this) because he is the real deal. Talented, humble and just a genuinely good human. And he's opening up a brick and mortar later this year, with the guys who brought San Francisco the likes of Nopa and Nopalito (can you say custard french toast and totopos con chile?!). I am so excited about this because as much as I love the pop ups he does with Liholiho Yacht Club, I need to be able to access his food on a regular basis because seriously, he is talented. And to prove it, I give you the meal he prepared for the 162 guests who attended this glorious event. Everything was fabulous, but if I had to chose a stand out from this menu, it'd be Mariquita Farm beets, Everett Family Farm little gems & red Russian kale, Brokaw avocados, seeds, crispy quinoa, bonito caesar because I like beets about 20 percent of the time (they usually taste like dirt) but these were golden gems of goodness with the crispy quinoa. YUMMM!
Menu for Outstanding in the Field - Sunday, June 25, 2014
Naan, green garlic marscarpone, summer squash
Everett Family Farm egg, miso, anchovy, serrano
Salmon tartare, nori chip, jalapeño, ginger, pickled wasabi, daikon sprouts, spicy mayo
Mariquita Farm beets, Everett Family Farm little gems & red Russian kale, Brokaw avocados, seeds, crispy quinoa, bonito caesar
Soba & summer squash salad, dashi, nori, Japanese cubumber
Grilled Swordfish, marinated squid, fingerling potatoes, Mariquita Farm yellow wax beans, seaweed-shiso ranch, basil vinaigrette
Slow roasted pork shoulder, grilled Everett Family Farm broccoli, chili-dried shrimp, scallions & red mustard greens
Sticky ribs, Mariquita Farm cabbage, Everett Family Farm radish, mint & cilantro, kumquats, American cucumber, Thai basil
Lemon pound cake, Everett Family Farm strawberries, pink peppercorn, crème fraîche